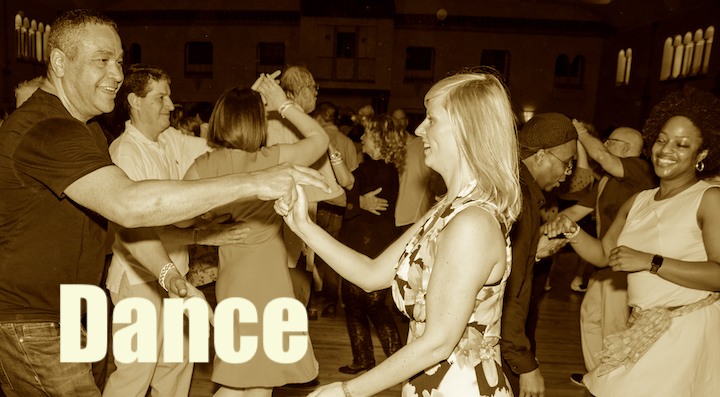 "Dance for Ukraine" Swing Dance with ROCK-A-SONICS at Colvin Run Dance Hall
• Beginner swing lesson 8:30-9pm; dance 9-11:30pm (band plays two sets)
• Admission $20/person. Advanced ticket sales only; pre-sales ends at 11:59pm on Thursday, March 31. All ticket sales are final; no refunds or credits.
• Attendance limited to 120.
• Voice of America will be present and filming at this event. By purchasing a ticket, you are giving consent to be filmed and for the use of your image in their video project.

Sue and Gary and Gottaswing are joining forces with our good dance friend Ksenia to raise funds to support the Ukrainian swing dance community's brave Ukrainian military forces. Direct donations can be made or, if you prefer, some talented and passionate Ukrainian artists have created stickers and other items. When you donate or buy MERCHANDISE all proceeds go directly to the Ukrainian army. And, because she's Sue and that's the way she rolls, folks donating $25 and up will receive a small Ukrainian flag to place in your yard, and folks making a donation of $50 and up will also receive an "I Support Ukraine" vinyl sticker. Raffles and prizes during the evening.
Please let [email protected] know if you donate ahead of time, so Sue can keep a running tally. We are also strongly encouraging everyone to wear blue and yellow attire as a show of support. We will be accepting checks, credit cards or cash for donations. All monies will go directly to the assigned charity. This will be a super FUN evening!
THE NOT-SO-FINE PRINT:
• All attendees must be fully-vaccinated (no exceptions).
• Attendees are required to present ID and proof of vaccination at the door.
• Masks are optional. If you do wear one, masks must stay over your nose securely, N95 or KN95 recommended.
• Tickets are pre-sales only. Payment via credit card at time of purchase, online only. Pre-sales ends at 11:59pm on Thursday, March 31.
• All ticket sales are final; no refunds, no credits.
• We reserve the right to change policy.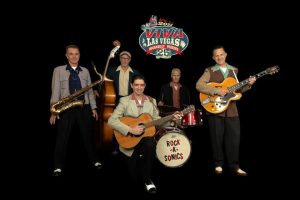 The ROCK-A-SONICS play Rockabilly, vintage Country, and atomic age Rock 'n' Roll in authentic style. Willie Barry on vocals and acoustic guitar, Eric Hurtt on electric guitar and vocals, Louie Newmyer on upright bass and vocals, Tommy Bowes on drums and vocals, and Kim Reynolds on piano, steel guitar and saxophone. One of our long-time favorite bands!