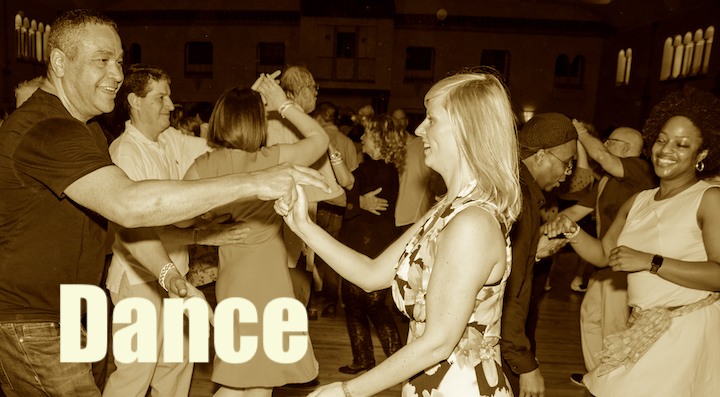 Swing Dance with THE JIVE ACES in the Spanish Ballroom
• Beginner swing lesson 7-7:30pm; dance 7:30-9:30pm (band plays two sets)
• Admission $20/person advanced sales (credit card only); $30/person at the door. Advanced ticket sales ends at 12noon on Sunday, March 27. All ticket sales are final; no refunds or credits.
ADVANCED TICKET SALES CLOSED. ADMISSION AT THE DOOR $30/person.
THE NOT-SO-FINE PRINT:
• All attendees must be fully-vaccinated (no exceptions).
• Attendees who are attending their first Gottaswing dance this year are required to present ID and proof of vaccination at the door.
• Attendees who have attended Gottaswing dances this year and whose vaccination status is verified in our database are not required to provide proof at the door.
• All advanced ticket sales are final; no refunds, no credits.
• Masks are optional. If you do wear one, masks must stay over your nose securely, N95 or KN95 recommended.
• We reserve the right to change policy.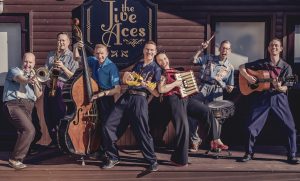 We just can't believe it! After a nearly 2-1/2 year gap, THE JIVE ACES ARE BACK! The United Kingdom's No. 1 Jive and Swing band has long been huge favorites of the DC swing dance scene. Impossibly high-energy, entertaining, talented, and oh-so-danceable, this sextet averages 300 shows a year, has worked with Keely Smith among others, has performed for Queen Elizabeth, has headlined at and sold out Royal Albert Hall, has performed at multitudinous jazz festivals, appeared on "Britain's Got Talent," traveled the world, and on and on. Their 2011 video of "Bring Me Sunshine" went viral and has been viewed by tens of thousands of people. When their gigs got canceled as the world went into lock-down mode, the band started "JiveStream" with daily appearances. Are we thrilled to have them back? You bet we are.