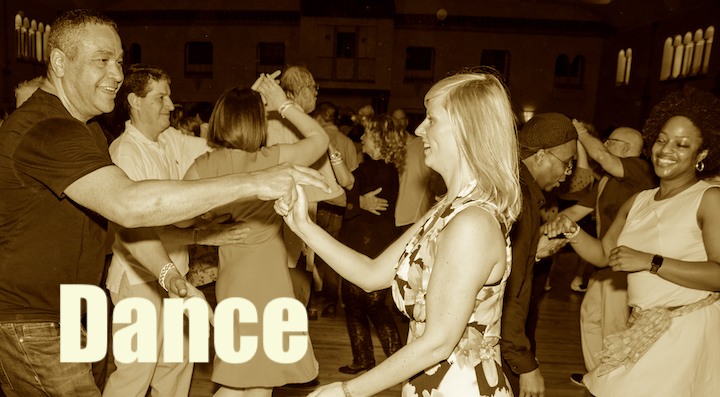 Swing Dance with ONE GUY NAMED MOE: King Teddy, The Grandsons–and Moe! in the Spanish Ballroom
• Beginner swing lesson with Tom and Debra 8-9pm
• Bands plays 9-11:30pm
• Admission $30/door. SAVE $10! Purchase in advance online and pay $20; ticket sales ends at 12noon the day of the dance. Advance ticket sales are final; no refunds or credits.
TICKET PRE-SALES CLOSED; PAY AT THE DOOR.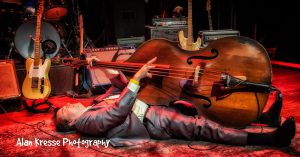 Who IS Moe Nelson, anyway? Originally from Champaign, Illinois, he's made and taught music since the age of 18, and came to the Washington, DC area in the early 1980s. This international man of mystery is a marine biologist at NOAA by day, but at night you can find him playing string bass, harmonica, and ukulele with bands including the HULA MONSTERS, the LONGTIMERS, and, of course, THE GRANDSONS and KING TEDDY. Tonight, we have TWO bands with Moe onstage for your dance and musical enjoyment. Fuuun!!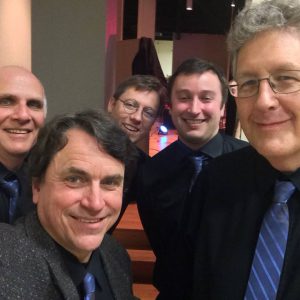 KING TEDDY
long-time favorites of the Gottaswing dance community, the band's name is an homage to the kings of swing, the king of rock and roll (Elvis!), Nat King Cole, and the British Teddy Boys of the '50s. The band's name was suggested by the keyboardist's younger brother. His name is Ted.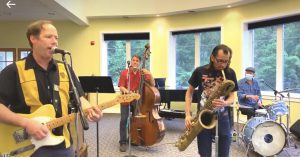 THE GRANDSONS
have been described as American music in a blender with the lid off. Their song selection is wry, witty, and imminently danceable. You'll catch them as regulars at
Hank Dietle's
, at
First Night Alexandria
, and at summer concerts all over the area. After I complained that I couldn't find any photos of the band with
Moe
, they were able to dig up this pic.