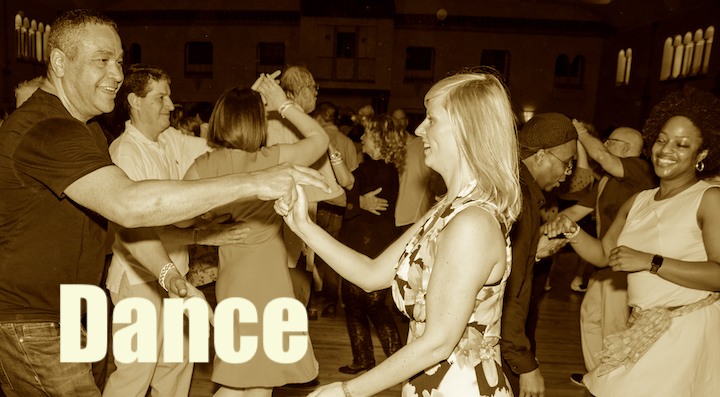 Swing Dance Battle of the Bands: ROCK-A-SONICS vs. NATTY BEAUX in the Spanish Ballroom
Beginner swing lesson with Tom and Debra 8-9pm
Band plays 9-11:30pm
Admission $30/door
SAVE $10! Purchase in advance online and pay $20; ticket sales ends at 12noon the day of the dance. Advance ticket sales are final; no refunds or credits.
TICKET PRE-SALES CLOSED; PAY AT THE DOOR.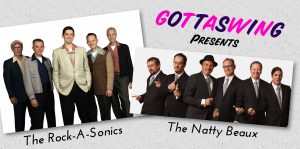 The ROCK-A-SONICS play Rockabilly, vintage Country, and atomic age Rock 'n' Roll in authentic style. Willie Barry on vocals and acoustic guitar, Eric Hurtt on electric guitar and vocals, Louie Newmyer on upright bass and vocals, Tommy Bowes on drums and vocals, and Kim Reynolds on piano, steel guitar and saxophone. NATTY BEAUX is a fun-lovin', finger-snappin', hoppin' and boppin' combo featuring musicians from some of the Mid-Atlantic region's finest groups including: Billy Coulter Band, The Junkyard Saints, Alexandria Kleztet and more. Folks just can't sit still when they hear 'em play toe-tappin' numbers from Louis Prima, Ray Charles, Louis Jordan, Bobby Darin, Elvis, Gene Vincent, Nat King Cole, Jerry Lee Lewis and other greats. What happens when they go head-to-head at the Spanish Ballroom? We'll find out, as each band plays one set, then joins together for a final set of knock-down, drag out fun. You will not want to miss this!